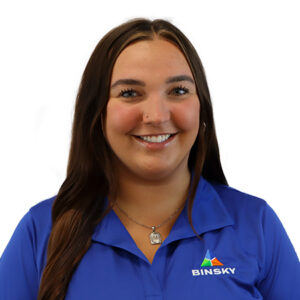 Internship programs are invaluable to college students as they apply lessons they have learned to real life work situations. Enthusiastic students provide a fresh outlook and possibility for improving unseen processes. These symbiotic relationships often result in full time employment for highly motivated students.
Binsky has gained many talented engineers through our internship program. Most recently, Meg Lisowski has joined the team as a full-time Project Engineer. As a graduate of Syracuse University, Meg earned her Bachelor of Science in mechanical engineering. Her passion for science and math led her to a career in engineering. Meg's strong work ethic was inspired by her parents, who are small business owners in the construction industry. They encouraged her to begin interning after her freshman year which instilled the value of hard work and hands-on experience.
Meg's internship with Binsky was a unique experience, as she spent several weeks in each department learning all facets of the mechanical construction industry. From cost coding with the purchasing team to walking through jobsites with our dedicated safety team, she was able to learn which aspect she would enjoy most for her career.
Throughout her summer internship, we were impressed by Meg's enthusiasm. She exemplified our core values and proved herself a valuable team member. Her potential was recognized, and she was invited on board as a Project Engineer. Binsky was able to create a schedule to accommodate her last semester and ease her into a full-time position.
As a project engineer, Meg assists the project management team with various tasks to keep operations running smoothly. Every day brings new challenges and Meg welcomes each task as a learning experience. As she begins her career, Meg hopes to inspire other young women to join the construction industry. Her goal to become a project manager is not far out of reach. She told our marketing team, "Binsky showed me that I am capable of the work I was doing and there is so much more out there that I can achieve. I have been able to grow professionally in such a short amount of time and I am excited to see where my career takes me."
Meg provides a great example of how internships assist hard working students in professional and personal growth. We're excited to watch her grow in her position and are grateful for her contributions. If you'd like to learn more about our internship program, contact our human resource department; we're always in need of new talent!
Subscribe to stay updated
Get the latest updates in the world of mechanical contracting and construction. Subscribe today!
Ready to Start Your Project?
Turn to a trusted leader in mechanical construction. Get in touch to discuss your project or request a quote today.