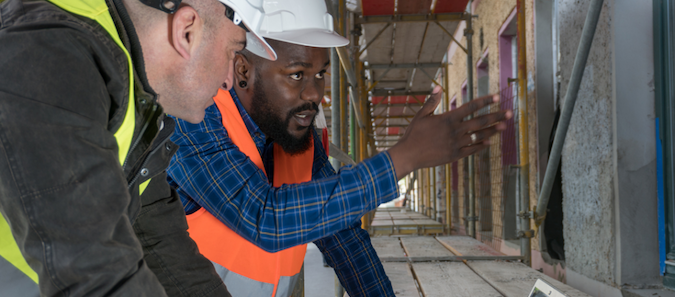 Indoor air quality is essential to the successful operation of all facilities, but in the healthcare industry, it is absolutely vital. Healthcare building owners are not only focused on common goals like energy efficiency and occupant comfort but are also—and in most cases, more so—concerned about operating safely and without interruption to critical building systems. Building systems are the lifeblood of the building. Simply put, lives depend on them.
Sufficient Hazards = Stringent Requirements
While the failure of building systems in another industry may result in hours of inconvenience and costly repairs, a similar experience for healthcare facilities can quickly become detrimental to the patients and staff, as well as medical devices or equipment within them. With the ability to prevent exposure to airborne contaminants and stop the spread of any infectious disease in its tracks, efficient HVAC and plumbing systems keep patients healthy and safe.
From surgical suites to pharmaceutical compounding areas, healthcare facilities belong to one of the most highly regulated industries out there. The pressure to meet many industry standards begins in the design phase, carries through installation, and is followed by service and maintenance to ensure factors like pressurization, exhaust, and filtration are measured and maintained. Indoor air quality conditions require routine monitoring, so necessary adjustments can be made. Frequent inspections of air handlers and filtration levels are also recommended to ensure optimal efficiency is sustained.
Healthcare owners that stay well informed regarding these stringent industry standards know that they simply cannot afford to risk hiring anyone other than highly experienced professionals with specific healthcare expertise. Healthcare facilities need mechanical and plumbing systems—and experienced mechanical and plumbing contractors—that they can rely on.
A Reliable Partnership
Selecting a dependable and effective building systems partner means choosing a contractor that stays up to date on industry standards, trends, and news. As an active member of the Healthcare Facilities Management Society of New Jersey, Binsky's Healthcare Account Manager Darren Siker states, "It's important to me to stay up to date on the industry—that's how we can best serve clients' needs. Our monthly meetings are focused on continuous education."
Binksy is a design-build mechanical and plumbing contractor that is not only up to date on the healthcare industry, but also familiar with healthcare standards like ANSI/ASHRAE/ASHE Standard 170, Ventilation of Health Care Facilities, and ANSI/ASHRAE Standard 62.1-2010, Section 2.3, covering additional requirements for healthcare in regard to ventilation for acceptable indoor air quality.
We know that following standards from engineering through project turnover directly impact the indoor environment by ensuring proper indoor air quality levels through aspects like appropriate ventilation, humidity, and pressurization. For example, minimum air change rates per hour need to be calculated based on the type and size of the hospital room to achieve acceptable room contamination levels. Relative humidity in operation rooms should not exceed 60 percent if owners intend to mitigate the chance of microbial growth. Likewise, patient isolation rooms that are not properly pressurized with respect to adjacent rooms and areas risk spreading airborne contaminants.
"Our work throughout the pandemic to help healthcare clients manage COVID has focused a lot on ensuring isolation rooms are negatively pressured. We've also been adding air scrubbers and servicing HEPA filters," mentions Siker.
Vital Project Experience
Our team of healthcare facilities experts has planned, installed, and maintained mechanical
systems all throughout New Jersey and Pennsylvania. Binsky's mechanical services have been applied to everything from preventative maintenance and emergency service to projects designed to upgrade, expand, and construct world-class medical institutions from the ground up. We know what it takes to keep hospitals functional, comfortable, and safe. Healthcare networks trust us to deliver critical projects by executing with the greatest level of care.
Some of Binksy's recent, large-scale healthcare experience revolved around the "New" Valley Hospital built to serve residents of Northern New Jersey. Providing virtual design and construction expertise for the development of modular components and prefabrication techniques, Binsky not only enhanced the flexibility and operability of the 362-bed healthcare facility, but the overall quality and safety level, as well. By getting involved early on, Binsky was able to collaborate and address many of the facility's future operations needs at the same time as efficiency goals.
At Hackensack University Medical Center's new Second Street Pavilion Project, Binsky's work included the installation of all hydronic and steam HVAC and process utilities and equipment for the podium and tower. Served by a new central utility plant, the pavilion consists of 24 new operating rooms, increasing patient operating area by 50 percent—none of which would be possible without proper indoor air quality.
"Binsky has worked on everything from billion-dollar healthcare expansion projects like Hackensack University Medical Center to small pump replacements or piping repair projects like the maintenance work performed for facilities like Sloane Kettering Memorial Cancer Center," explains Siker. "Our goal is to be your easy button. Whether you need something large or small, Binksy can do it. And even if you need something that doesn't align with our services, call us anyway—we have so many industry connections, we can always recommend someone."
Thinking about the vitality of your healthcare facilities? Eliminate any chance of headaches up front, and contact the reliable, knowledgeable partner you deserve here.
Subscribe to stay updated
Get the latest updates in the world of mechanical contracting and construction. Subscribe today!
Ready to Start Your Project?
Turn to a trusted leader in mechanical construction. Get in touch to discuss your project or request a quote today.