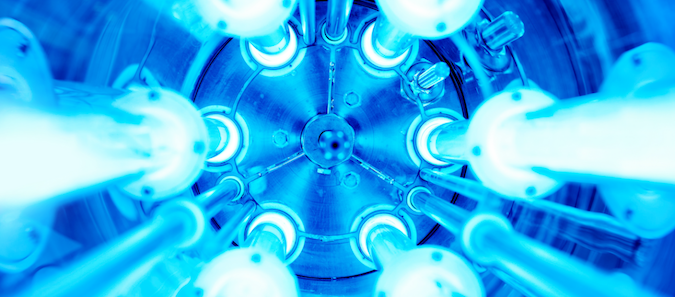 Many commercial buildings have been shut down for several months due to the COVID-19 pandemic. As businesses begin to prepare to re-open their buildings, the health and safety of employees, residents, patients, and guests remains the number one priority for facility managers. Many employees will return to work with apprehension as they adjust to a "new normal".
Maintaining your building will also require some additional precautions and measures. As you plan for your employees to return, you are most likely considering methods to improve cleanliness and indoor air quality (IAQ). Industry experts such as ASHRAE and BOMA have made several recommendations to ensure better IAQ to help prevent the spread of COVID-19 and other illnesses.
Bipolar ionization and Ultraviolet (UV) lighting for HVAC systems has become one of the most popular and effective solutions for eliminating bacterial and viral microorganisms from mechanical systems.
What is Ultraviolet light and how will it improve my IAQ?
Ultraviolet (UV) light is a form of electromagnetic energy produced naturally by the sun. UV light is split into four distinct spectral areas: UVV, UVC, UVB, and UVA. The entire UV spectrum has long been known for its ability to disinfect and kill bacterial and viral microorganisms. The UVC wavelength has been proven to be most effective, killing more than 90% of dangerous microbes upon exposure.  UVC light penetrates the cell wall of organisms and destroys DNA molecules, preventing reproduction.
UVC lamps provide a more powerful and concentrated effect of ultraviolet energy than can be found naturally. For over two decades, UVC technology has been used extensively in HVAC equipment to improve IAQ. These germicidal UVC lamps are installed within air handling units to inactivate microorganisms, disinfect moving airstreams, and eliminate the buildup of contaminants on the surfaces of system components including evaporator coils, drain pans, air filters, etc.
UVC lamps come in a variety of types and sizes which allow them to be inserted into HVAC ducts, typically downstream of the cooling coil for maximum efficiency. These shatter-proof lamps are built to run for approximately 9,000 hours, and require low maintenance, as replacements occur annually.
How does Bipolar Ionization improve IAQ?
Similar to the ultraviolet energy from sunlight, bipolar ionization technology dramatically improves IAQ. Bipolar ionization systems create negatively and positively charged oxygen ions. The negative ions contain an extra electron, whereas positive ions are missing an electron resulting in an unstable condition.  To correct this imbalance, the bipolar ions seek out atoms and molecules to trade electrons, which neutralizes particulate matter targeting virus cells, bacteria, odors, and volatile organic compounds (VOCs).
When outdoor air enters your facility, oxygen molecules will flow through a system of bipolar ion tubes which converts them into these positively and negatively charged ions. These ions travel into your occupied space and seek out poor-quality air particles. When these two elements combine, they break down and are eliminated to reduce contaminant levels in your airstream. Essentially, you can imagine the bipolar ionization system as a magnet that is aimed to eliminate harmful particles from the air.
Bipolar ionization systems can be installed in new or existing HVAC systems, including rooftop units, PTACs, ductwork, etc. These systems require very little maintenance, as the tubes should be changed approximately every two years.
Both of these systems will enhance your indoor air quality. Binsky is actively installing these systems for our customers to help ensure a safe return to work. Our team of experts can tailor a solution that fits your budget and overall needs.
Call Binsky at 877-4-BINSKY or visit our website to schedule a free walkthrough of your facility.
Subscribe to stay updated
Get the latest updates in the world of mechanical contracting and construction. Subscribe today!
Ready to Start Your Project?
Turn to a trusted leader in mechanical construction. Get in touch to discuss your project or request a quote today.