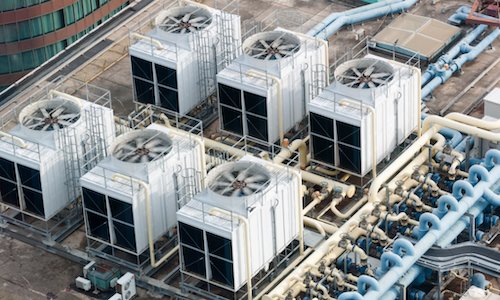 Engineers and HVAC technicians agree that variable refrigerant flow (VRF) systems are the future of HVAC. These super-efficient systems do not require ductwork, making them a great option for older-style buildings, such as college dormitories, that want to upgrade their mechanical systems. They are often installed in new construction applications such as schools, office buildings, dormitories, and multi-family facilities. VRF systems allow you to heat and cool only the spaces that need it. Overall benefits include high efficiency, low noise, space-saving, and overall comfort control. These systems save on the first cost by minimizing mechanical installation, simplified controls, electrical reductions, and structural savings.
Circulating the minimum amount of refrigerant in each individual zone, this innovative technology eliminates energy waste while increasing indoor comfort. A VRF system consists of one outdoor unit that feeds multiple indoor units, allowing for individual room controls. These systems operate in "cruise control", never turning off, thus, never wasting energy from a shutdown or start-up. Predominantly used in Japan, China, and Europe, VRF systems are now gaining traction in the United States due to their efficient operation and quick ROI.
It is important to use an experienced contractor when designing and installing VRF systems for your facility. Install technicians can obtain factory training and certification from manufacturers including Mitsubishi, LG, Daiikin, and Fujitsu. When installed by certified technicians, a ten-year warranty is available on the parts and equipment. These technicians work very closely with the manufacturer during the install, commissioning the equipment, and guaranteeing the most efficient design.
Aside from cost and energy savings, another benefit of VRF systems is the ability to use zoom lock fitting technology. This is a pipe fitting method that does not require brazing or torching. Traditional methods of pipefitting require a burn permit while deactivating smoke detectors in the facility. The zoom lock technology in VRF systems eliminates these tedious steps in the early installation process. Depending on the system requirements, the zoom lock technology may offer you additional cost savings.
If you are considering a VRF system for your commercial or industrial space, contact Binsky to discuss your options. One of our certified technicians will perform a walk-through of your building and make recommendations that best suit your needs.
Subscribe to stay updated
Get the latest updates in the world of mechanical contracting and construction. Subscribe today!
Ready to Start Your Project?
Turn to a trusted leader in mechanical construction. Get in touch to discuss your project or request a quote today.