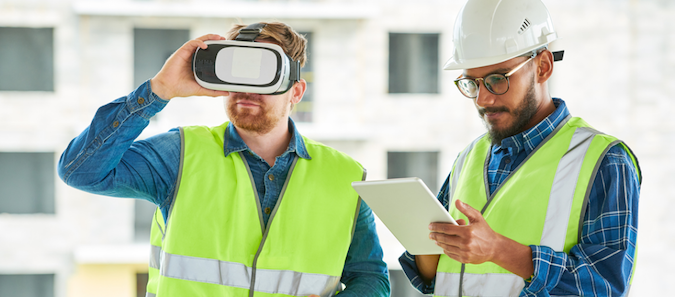 Anyone that's been paying attention to trends for the past several years knows that virtual is here to stay. Although the concept of virtual reality dates back to Morton Heilig's Sensorama invention in 1957, we have seen it affect just about every industry since the Oculus video game headset emerged in 2012, making virtual reality a household name. Further blurring the line between real life and simulation, we saw the popularity of concepts like virtual learning, virtual training, virtual meetings, and virtual experiences in recent years. By the time the Covid-19 pandemic hit in early 2020, we had no choice but to fully embrace our virtual worlds. What may have seemed futuristic and unfamiliar a mere decade ago has emerged as an unsung hero this year, providing alternate pathways for many to continue on and reach their goals in an otherwise difficult time.
For Binsky, virtual is much more than a buzzword. Virtual is how we thrive. As part of our effort to remain up to date on industry trends and technologies, we began implementing virtual design for construction activities (including virtual reality headsets to view conceptual models in a virtual space) years ago. Through building information modeling (BIM), we are able to create virtual models of our projects prior to installation, thereby increasing collaboration and accountability across the entire project team. Not only does this process lead to higher efficiencies and decreased requests for information (RFIs) and change orders, it also leads to significant project savings in terms of budget and timeline, safer working environments, and enhanced quality control.
By getting involved from the onset of a project and implementing BIM, Binsky's design team has the opportunity to make improvements to the design. Our designers create a detailed digital model that mirrors the project to be constructed so precisely that we call these virtual representations 'digital twins.' The digital twin is ideally developed in the initial design phases prior to construction, allowing the entire project team to review cost, progression, and construction feasibility upfront.
"We'll build the model, building exactly as it will be built in virtual form. We used to see 80 percent of a project's duration allocated to construction, but that time needs to be spent on design now. When it is, installation is able to occur mainly offsite, ahead of schedule, with less labor," explains Dan Reuter, Vice President of Virtual Construction at Binsky. "By dedicating more time to design and planning, we can ensure accuracy down to every last valve and fitting."
Opportunities and Advantages for Everyone
One could then surmise that simply avoiding the risk of rework—and the high costs of labor and materials that come with it—prove the case for virtual design, alone. But let's venture past the elimination of change orders and take a closer look. The type of superior solution developed through unique technology like BIM and other software leads to leaner projects, improved coordination, enhanced quality control, and possibilities for prefabrication and modular construction. Most notably, owners receive:
Improved timeline and estimate accuracy
Turnover date certainty
Risk minimization
Safer field installation
"Virtual design for construction is truly a game-changer for our installs. We can now have a whole mechanical room delivered on one truck. We can even reduce the footprint of a mechanical room by half if we do it ahead of time. We can take the work out of a job site and bring it to the fab shop. That not only offers safer working conditions for our fitters but helps the project schedule stay on track too," Reuter states.
When Binsky joins a project team early, our virtual design for construction activities helps ensure the design makes sense for all trades. More than a tool for the planning and execution of design and construction, virtual design software also allows us to test ideas, land on advantageous alternatives, and spot interferences before fabrication begins. These small alterations result in large overall improvements to the fabrication and installation needs of the project, benefiting all trades—not just the mechanical and plumbing subcontractors.
Prefabrication Made Possible with Virtual Design
The assistance of virtual models is extremely useful for Binsky to arrange offsite prefabrication, and in some cases, modularization prior to the install. In our fabrication shops, teams assemble large portions of the design, which enhances quality control and limits safety hazards. Additionally, we can fabricate necessary skids and racks ahead of schedule so that they can be delivered and installed to the job site efficiently, helping to close any labor gaps between trades. As the mechanical scope is typically the most complicated and critical element of a project, Binsky's prefabrication and modular construction capabilities help in reducing onsite construction time and meeting the project schedule—especially in situations where a traditional approach would lead to delayed timelines.
Binsky's recent virtual design work for Hackensack Hospital in New Jersey, for example, resulted in a 50 percent reduction of field labor. By shifting those man-hours to the fabrication shop instead, everything normally assembled in the field was manufactured and assembled offsite, allowing for increased quality control, better productivities, and increased safety.
Working on another project, Merck Formulation, Binsky applied the same idea from the basis of design to the schematic design, and all the way up to the construction phase. Using structural multi-trade racks, all plumbing and HVAC equipment was skidded and all piping, valves, specialties, and equipment were bundled and completed ahead of time in Binsky's fabrication shop.
Better Than BIM: Binsky DFX Live
Smart, data-rich virtual models have created an unmatched opportunity for collaboration and coordination throughout the many phases of a project, particularly installation. Adding time and cost, as well as facilities management, to three-dimensional virtual models allows Binsky to take those benefits a step further.
Binsky is currently developing in-house software which builds upon the digital twins of ongoing projects to allow for a level of productization and standardization similar to that found in the manufacturing industry. Called Binsky DFX Live, the software pulls information found in the virtual model like the number of fittings or linear feet of pipe needed into a live database and applies it to variables like schedules, labor hours, and planning pricing. Binsky DFX Live can help identify labor gaps as well as lead to better coordination and further opportunities for prefabrication. Binsky's team can then go into the program to check the status of materials, whether the equipment has been coordinated, or scheduled for delivery. Using lessons learned from past projects and expertise from both engineers and in the field, packaging and standardizing becomes possible. Binsky already applies manufacturing and lean principles to the built portion of a project, but this form of industrialized construction means tried and true parts and pieces can become manufacturable.
Taking those benefits into account, it's no surprise that virtual design for construction is better for the trades and their respective laborers, better for budgets, timelines, and overall efficiencies, and better for an owner's bottom line. Although it takes a professional to properly implement the virtual design in its most advantageous form, the overall concept is not too different than the old standby of "measure twice, cut once" in its ability to deliver enhanced outcomes from planning ahead and problem-solving.
If your project would benefit from increased offsite prefabrication, decreased onsite field staff, greater quality control, minimizing change orders, and a reduction in potential safety hazards on the job site, the answer is simple. Contact Binsky to experience the benefits of virtual design firsthand.
Subscribe to stay updated
Get the latest updates in the world of mechanical contracting and construction. Subscribe today!
Ready to Start Your Project?
Turn to a trusted leader in mechanical construction. Get in touch to discuss your project or request a quote today.