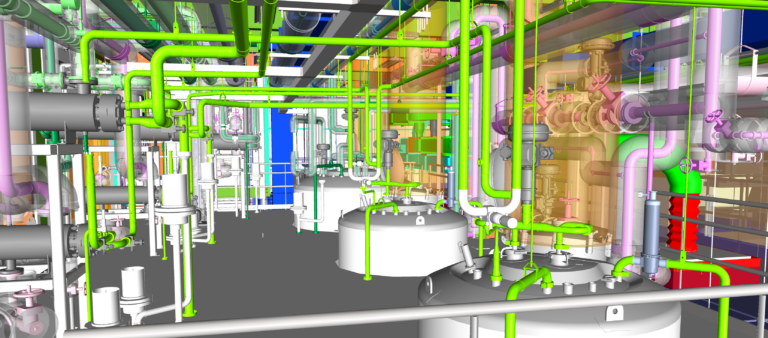 Quick Facts
Fabricated Pipe Racks Include:
Chilled Water
Heating Hot Water
Process Chilled Water
Tempered Chilled Water
Nitrogen
Process Air
Instrument Air
Utility Water
Domestic Water
Tepid Water
Project:
Merck FLEx
Merck & Co. invested $300M in a state-of-the-art formulation lab and experimentation center at their Rahway, NJ site. Known as the FLEx Center, it will focus on expediting the process between product development and manufacturing for clinical trials. This 94,000 square foot facility features modular cleanrooms, and cGMP manufacturing suites. Open laboratory areas house mobile workstations and overhead service carriers, and a robust IT infrastructure will leverage technologies to create integrated workflows. Traditionally, Merck has applied manufacturing and processing approaches that relied on large-scale fixed facilities; alternatively, this new building is intended to be modular, agile, and able to adapt to future processes and sciences.
Jacobs provided architectural and engineering services for the project, while Lend Lease acted as the construction management firm. Due to the complex scope of work, Lend Lease chose Binsky as a trade partner to complete the HVAC, plumbing, and process piping portion of the project.
Mezzanine mechanical and clean utility spaces house the HVAC and process equipment.
Virtual design and fabrication were heavily utilized on this project. Specialty items include 70 prefabricated pipe racks, two HVAC equipment modular skids, and three process equipment modular skids. The building did not have adequate steel to support the loads of large bore piping required; Binsky designed and had fabricated pipe stands that had to be lifted into the Mezzanine level before piping work could begin.

As a design-assist project, modifications were frequently made to the design which had to be incorporated while construction was ongoing. The Binsky team had to adapt to constant change while keeping deliverables on schedule.
Construction is ongoing for this project with an expected completion date in March 2023.
Ready to Start Your Project?
Turn to a trusted leader in mechanical construction. Get in touch to discuss your project or request a quote today.